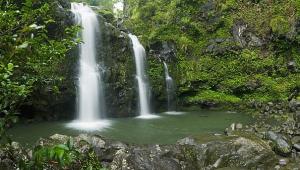 Pacific Stock - WATER

Hawaii may be known mostly for its beaches, surf, and volcanic activity, but the lush tropical environment shelters some of the most breathtaking and accessible waterfalls. The northeastern coast of the big island, along the Hilo and Hamakua Coast, is a green fertile land with tropical rainforests and gardens.

See more of Hawaii's waterfalls: http://printscapes.artistwebsites.com/art/all/waterfalls+rivers+and+lakes/all

Here's our favorites:
Wailuku River State Park, home to the 80-foot Waianuenue (Rainbow Falls and Peepee Falls)
Akaka State Falls Park, home to the 100-foot Kahuna Falls and the incredible 442-foot Akaka Falls
Waipio Valley Lookout, 1,300-foot Hiilawe Falls.